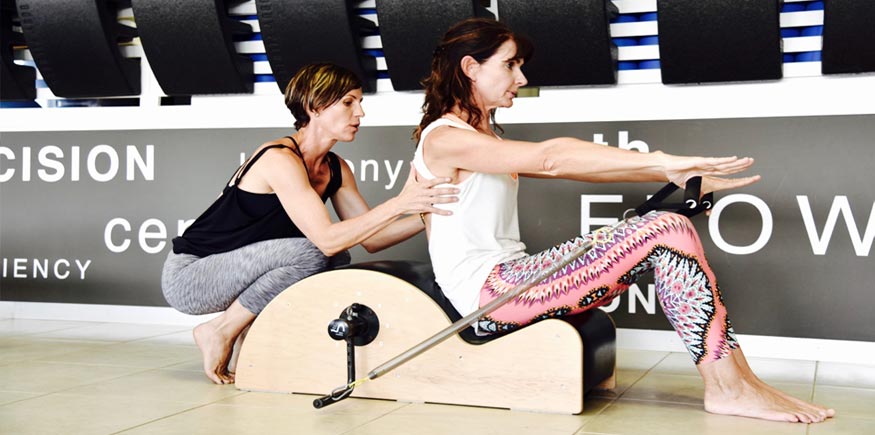 People with a disability are the most at risk of unhealthy weight gain and losing muscle tone, especially if they are wheelchair bound for most of the time. It is essential for them to have some kind of exercise to increase lung function and keep their cardiovascular system healthy. Pilates will not only keep them more flexible, give them more stamina and boost muscle strength; an added benefit of exercise is that it increases endorphins in the body and so makes you feel good rather than depressed, something that many disabled people struggle with.
Pilates is one form of exercise that many disabled people can take part in because it is low-impact. Developed by Joseph Pilates in the 20th century to help injured dancers and athletes recover their strength, the movements have been adapted from ballet, yoga and callisthenics. In the United States alone, over 11 million people practice Pilates.
Pilates is not just a series of exercises; you have to exercise extreme concentration and ensure you are breathing in the right way while doing it. It tones and strengthens the core or abdominal muscles which is very much needed for those who have lost limbs and need to be in a wheelchair where good posture is necessary for comfort. However, because it increases flexibility it is also a good form of exercise for people with arthritis or other diseases that make them stiff or prevent a normal range of movement.
As well as the above benefits, Pilates builds strength and develops control and endurance in the whole body. It relieves tension and stress, reduces joint stiffness, improves balance, and reduces back pain in many cases where there is no specific reason for it.
This form of exercise is not designed to help you lose weight, so it will be necessary to add yet more exercise to your regime if that is your goal. The fact is, Pilates will help strengthen you so that doing other types of exercises is possible, where you may have found that they were really difficult to do before. Aerobics is the suggested additional exercise regime for those wanting to lose weight.
Disabled people who want to do Pilates are advised to use the Nagi-evolved classification system to determine the severity of their disability and the best pathway to care for it. The classifications include impairment, functional limitation, pathology and disability and will help to ensure the best Pilates movements for each person on an individual basis.
Everyone who decides to take up a new form of exercise should consult their doctor before doing so, especially if they are over 40 and haven't exercised for some time – and also if they have some kind of medical condition.