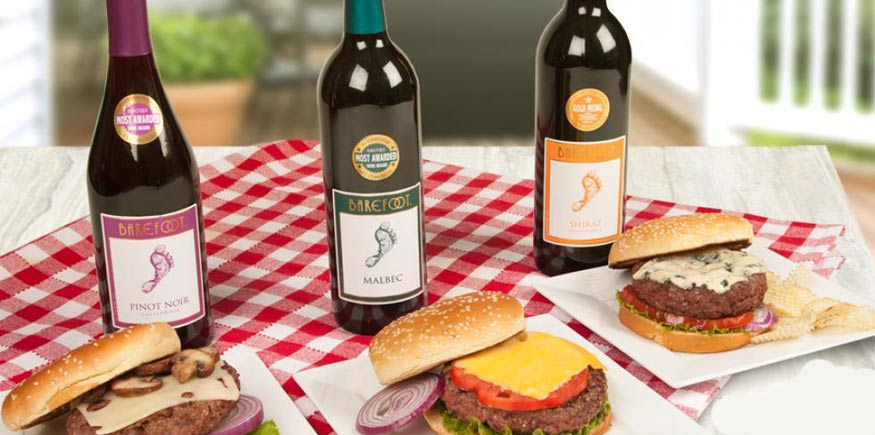 Wines always go about with any of the food items but choosing a wine to suit your burgers can be a complex task. Wine was made to go about with some of the delicate foods. Burgers on the other hand are fast foods that need a different form of wine to go along with it. In this section we will take a look at how to choose the wines.
If you have already chosen a beautiful white as your wine of choice, here is a list of foods that go well when served with a Sauvignon Blanc, otherwise, here is a list that will help you get the right wine for your burgers so that you can enjoy it to the fullest.
Tip 1:
Since the burger is junk food stuff you need to make sure to get a full bodied wine for enjoying your dish. You can also enjoy your burger if you pair it with sparkling wine which will ensure the flavors of the burger emanate from it.
Tip 2:
Is there a vegetable which dominates in your vegetable burger? If there is a burger that has a single vegetable dominating in it then you need to choose a wine that will help in intensifying the effect of that single veggie. For instance if you have mushroom dominating in your burger, you can choose the pinot noir while the asparagus will pair brilliantly with a glass of chardonnay. You need to identify the various vegetables that are dominant and choose a wine based on it.
Tip 3:
Most of the burgers for the vegetable lovers are created with the intention to capture the essence of the meat burgers. Make sure that you choose the right wine for each of these burgers which can be done online.
Tip 4:
The wine you choose for your burger also depends on what is the make of your burger. If it is made with a relation to the Italian style or American style, choose the right wine for your burger. For example the use of Italian veggies should be complemented with crisp dry wine with mezze. It is only possible to enjoy all the veggie if you mix the burger with the right choice of wine.
Tip 5:
If you are planning to have wine along with your burgers then you need to choose wines that compliment the taste of your burger. Spicy burgers are tasty with a hint of sweet wine like Riesling and pinot gris and vice versa. The mix of the tastes creates a unique blend that will create a rush of flavors in your mouth.
Tip 6:
Are there any pulses in your burger? Check the menu to understand the exact composition of your burger. Do not worry if there is a mixture of Tuscan pulses like beans and chickpeas in your burger since you can use fine red wine to compliment it. Some of the examples of red wine is Chianti Classico.
Just make sure that you are using a wine which does not have any form of animal extracts in the procedure of extracting the wine from the grapes. The back labels in the supermarkets are self explanatory and they will help you understand all the details about your brand. You need to know more about your burger if you are planning to choose the right wine to have with it. More you understand the flavors of your burger the better wine you can choose.