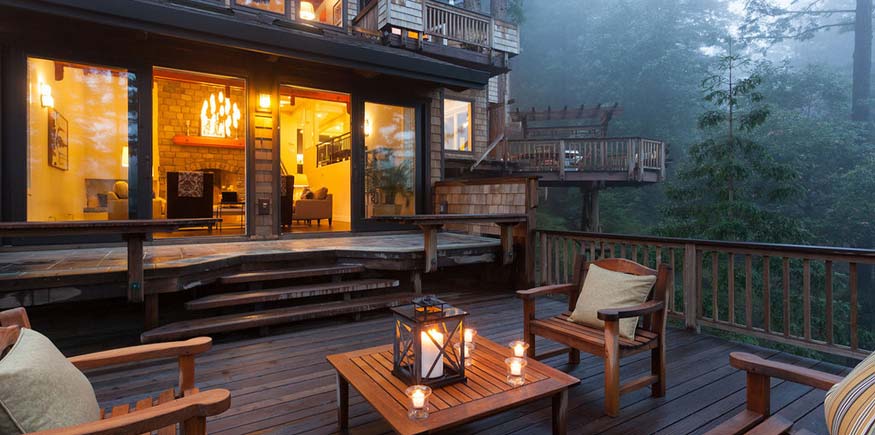 Once you go to the trouble and expense of creating an outdoor room, you'll really enjoy it in summer as well as some of autumn and spring, but come winter that room will be deserted simply because it is too cold. This seems a shame, so get some heating installed there. That way you can make even more use out of the room rather than letting it go to waste.
Your outside room can become a year-round retreat with just a little more attention. It doesn't cost a bomb to add a few things to enhance the climate in what may be a cold place during winter. Here are some tips on how to do it.
Add blinds – the clear plastic, roller blinds that are used to enclose verandas will keep out that cold breeze while still letting the sunshine through. You can get them to zip all the way down so they don't flap. Some will roll up with a remote control for ease of handling.
Add a fire – if you choose an electric or gas one you may need an electrician to install it. Other options are a chiminea or fire pit, a self standing gas heater or a built-in fire; all will help to keep the room and you, warm.
Transform the outdoor room into an outdoor kitchen. The stove will help to warm it when you cook up a storm.
You will feel warmer if you remove that bleak winter look with warm lighting, outdoor mats in cheery colours, rugs over the sofa and cushions that pop with warm colours of red, burnt orange, rich purple and gold.
Fill in one wall with windows. Choose the side where a prevailing cool breeze sweeps in.
Once you've revamped your outdoor room it will become a snug place to cuddle up under a plush rug with your favourite book or craft project. It's good to get outside in the winter time, even if the air is cold. It is still fresh and crisp and breathing it in can make you feel invigorated. In a culture where most jobs are inside and we come home to work inside the home, having an outdoor room allows you to experience a little more fresh air than would otherwise be the case.
Just remember when planning what electrical things you'll have, that an electrician is the best one to do the installation. Having extension leads from the house to power everything is risky, especially when it rains – and if dogs or toddlers might chew on them.  Keeping everyone safe is the main priority.  Once that room is set to go you and your friends can have many fun days and nights in your outdoor room no matter what the season is.